The digital age has given more options to professionals in the mortgage industry to grow their businesses than ever before. Besides offering you a continuously growing audience, the internet brings massive opportunities for diversification into different markets along with numerous opportunities to provide new products and services.
Your first step to leveraging the digital landscape is to optimize your current business for the internet in a way that makes building relationships easier. Following that, you can build upon your existing business by diversifying into new markets that offer additional opportunities.
As a mortgage broker, you spend a great deal of time generating leads for your mortgage business. Offering products like insurance ensures that the hard work you put forward doesn't go to waste. There's never been a better time to expand your business, and this guide will show you how it's done.
The digital transformation of marketing makes it possible
Mortgage marketing no longer strictly involves pushy sales tactics and cold-calling. The internet can now brings customers to you through a strategic digital marketing strategy which leverages online networks to bring leads to your website.
Innovative online business strategies allow you to attract the most ideal clients that are looking for the exact services you offer

The key is in crafting an online marketing plan to leverage everything the internet has to offer. Here are five steps that summarize how you can make that happen:


1. Optimize your website
Your website is more than an online business card featuring your bio, listing your products and services, and providing your contact information. It is a marketing tool that gives visitors the opportunity to gain a glimpse of the depth of your experience and professionalism.
When it comes to website development, it's best to get a professional's help because DIY websites are painfully obvious. Professional website developers can make sure that:
The website is coded correctly using an easy-to-use content management system (like WordPress)
It looks consistent on all device sizes, from mobile to large screens
Design elements like font sizes, images, and videos are displayed correctly
It has a logical site architecture and menu structure
It's SEO-ready with all the correct technical configurations in place
Once the website is completed, you need to define your ideal visitor so when they stop by, they feel welcome and will want to stick around!


2. Identify your customer and create the content they are looking for
Staying relevant in the home loans business requires an edge over the competition. Make your experience and knowledge that edge.

But before we get into how that's done, it's essential to clarify exactly who your ideal customer is.
Identify your best customers
People that fish know that casting a wide net will result in a catch, but it can also bring them weeds, garbage, and other things they may not want.
The trick is to secure the right bait on your hook to reel in the best leads for your business.
First, you need to identify who your best customers are. Start the process by asking some simple questions such as:
Where is my customer located?
What are their concerns and fears?
What answers are they looking for when they are online?
Where do they go to find answers?
What kind of information can I provide to help them?
Answering the above questions goes a long way into creating the content on your website that will attract high-quality leads.
Every page on your website should contain content that speaks to your customer and addresses their concerns while providing solutions. Various formats specific to loan officer marketing can include:
Informative articles
Blog posts with personal anecdotes
Reviews and success stories
Informational videos
Podcasts

3. Attract leads to your website
Now that you have a website that's attractive and informative, the next step is to get traffic. You can accomplish that in the following ways:
Search Engine Optimization (SEO)
In today's digital environment, search engines are where most people start. While you don't need to know all the technical details, it is essential to understand that your content needs to include keywords that potential leads might type into that search engine box.
Many factors go into SEO, and a professional can help you optimize your content so it gets found by your target audience. An important thing to keep in mind is to create content that is useful, engaging, and relevant - you can always tweak it later.
Social Media
Social media is where the world's conversations take place, whether they are across the globe or around the corner. Businesses now have audiences of all types that can be accessed on platforms like Facebook, Twitter, and LinkedIn through marketing tools that directly advertise to their exact target market.
Search Engine Pay-Per-Click (PPC) Marketing
Pay-per-click or PPC marketing is an advertising strategy that allows marketers to pay for clicks. Search engines like Bing Ads, Yahoo! Gemini, and Google Ads offer platforms that allow you to bid for the ad listings in search engine results that can attract users to your site.
Digital Advertising
Digital advertising services allow you to place ads on other websites. These can include marketplaces, directories, and other networks that can be accessed through the website itself or through digital marketing agencies specializing in ad placement.


4. Convert leads to paying clients
This part of the process depends mainly on you, however, you can take potential clients further along the buyer's journey through various strategies that include:
Email marketing
Email marketing is an effective way to engage with leads that allows you to further communicate the benefits and features of your services outside your website.
The first step is to get their contact information. This is most commonly done by offering website visitors a gift in exchange for their contact information. Some examples that have been successful in the mortgage industry include:
Mortgage guides
Real estate reports
Complimentary assessments
Economic reports
Homebuyer checklists
Try taking a pain point or concern you identified during the first step and create a digital download that offers a solution.

5. Generate referrals to grow your business
There are many ways to generate referrals online. The digital nature of communication means that messages can be shared faster and easier, and those benefits can extend far into the future.
There is no shortage of satisfied customers raving about products and services they love online. Few advertising strategies can outperform positive customer reviews and the referrals they generate. You can leverage that power through various techniques that include:
Creating share links on website articles
Asking followers to share posts on social media
Networking with referral partners and other professionals (such as a real estate agent) and asking them to share your content
Sending newsletters and asking readers to forward them to friends
The key to generating referrals is to stay at the top of their mind by providing valuable, relevant content. By taking the initiative and putting forward effort today, these strategies can pay massive dividends in the future.


6. Diversify into new markets, products, and services
The preceding steps are a great starting point for revitalizing your mortgage business and generating new business.
One of the main benefits of creating that following is that you can quickly diversify your business because you already completed much of the hard work that came with creating a website, optimizing content and building your list of loyal customers.
Selling insurance is a logical next step
Buying a mortgage is not something people do very often. Now that you've built up your book of business online with social media followers and a mailing list, you can diversify your business.
While other income diversification strategies might include an updated stock portfolio, investing in real estate etc. selling insurance is a solid diversification option for mortgage brokers because you're uniquely positioned to help your existing customers.
Insurance gives people valuable peace of mind. As a trusted mortgage advisor, you have already guided them through one of the most significant purchases they will ever make. Providing insurance is a logical next step and by creating a successful lead generation strategy, you can build foundation that makes it possible.
---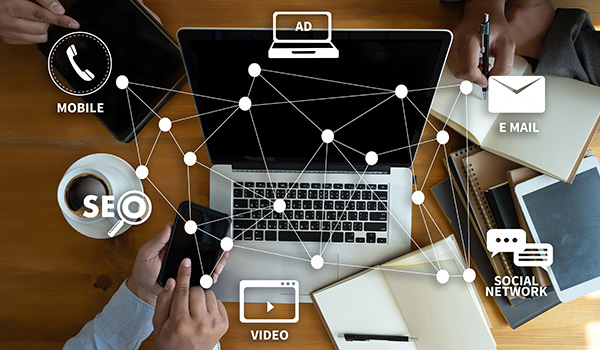 5 Surefire Growth Strategies for Mortgage Loan Originators
The digital age has given more options to professionals in the mortgage industry to grow their businesses than ever before. Besides offering you a...